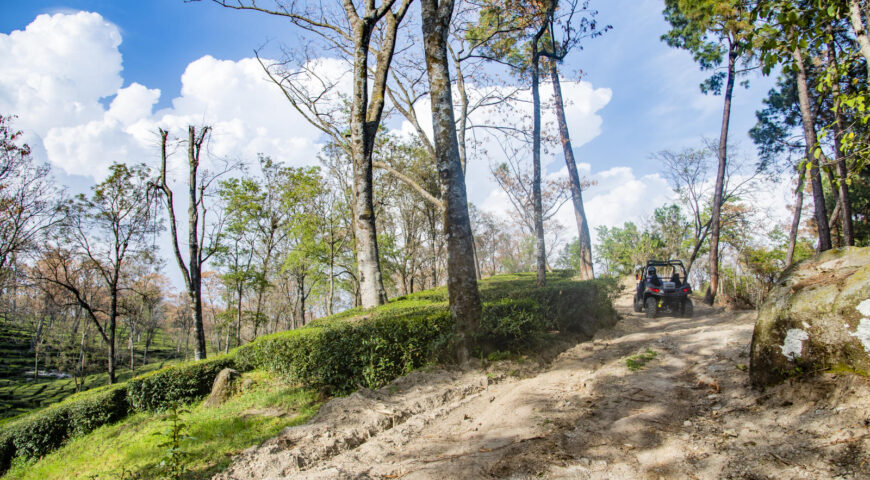 Things to do in Palampur, Himachal Pradesh. 2022
Himachal Pradesh, a luxuriant state in the northern region of India has always been known as "A destination for all seasons and all reasons". Dotted with numerous hill stations, the state proves to be a popular holiday destination and a weekend getaway for tourists flocking in huge visitors annually owing to its striking natural beauty and the plethora of activities it has to offer. While lately over-tourism plague many of the major destinations of the state, Palampur, a quaint hill station in the Kangra Valley of the state is emerging as a people's wonderland. The hill station sits nestled amidst the majestic Dhauladhar range surrounding the town with snow-filled mountain tops welcomes every visitor with a blended scent of tea leaves fused with the fragrance of the pine trees.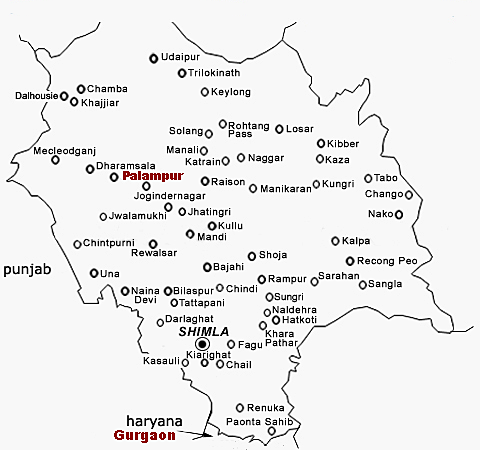 Palampur offers magnificent views with breathtaking ambiance of the vast expanse of lush green gardens and sprawling orthodox tea plantations. Tea plantation was introduced in the 18th century. The hill station also gives great adventure opportunities and cultural activities making it a splendid destination for all demographics for a delightful stay. Although the mercury falls to a near freezing point during the peak winter times, this scenic hill station boasts moderate weather conditions all year round making it a year-round destination.
With the rise of delightful visitors each season, the inhabitants are giving a great emphasis on developing the infrastructure and improving the available amenities to provide better services and longer stays to every visitor. One like-minded enthusiast all visitors should not miss in the region is the Great Himalayan Adventure Studio Pvt. Ltd. (Himalayan Adrenaline) who provides a personalized experience and a vast array of offbeat adventures Himalayan Adrenaline offers best things to do in Palampur. While travellers are being plagued by the ghosts of time constraints and budgeting, this startup provides a one-stop platform to all adventure enthusiasts by introducing and bringing together various activities and experiences that are unique and memorable.
Major highlights of the Himalayan Adrenaline are:
1. ATV Rides
Introducing the very first of ATV tour rides in the region, Himalayan Adrenaline awaits and welcomes enthusiasts to experience a thrilling off-road ATV adventure. The experience here is seriously different from any other various cheaper rides available elsewhere in the country. Unlike others which take you to a very small duration in tracks that are hardly challenging and realistic, an Official Polaris Experience Zone tracks of Himalayan Adrenaline amidst the tea plantation challenge you to navigate one of the country's largest private ATV tracks. Riding through unpaved roads and swaying to hairpin bends and the steep hill slopes that passes through a refreshing natural stream, shady pine forests, and beautiful tea plantations allow you a unique superb experience.
2. Paintball
For any hardcore paintball fanatics, Himalayan Adrenaline is a perfect fit for an amazing paintball activity. Convince your gang to indulge in a round of paintball match with world class tippmann equipment in a well-designed arena. Showcase your superior strategizing power to lead your team to victory a super group activity for teenagers and above. As an individual traveller, this place keeps your adrenaline pumping more with paintball shooting. This is one the must do activities in Palampur & a must visit place near Dharmshala.
3. Archery
Archery calls for a great focus and deep concentration when aiming for the target, and this fine skill sports help relieve stress taking away your worries and problems, allowing you to enjoy the thrill of the outdoors. Himalayan Adrenaline awaits you to display your talent, discipline, and accuracy in nailing a bulls-eye.
4. Tea top adventure
The Tea Top Adventure of Himalayan Adrenaline comprises a series of five different rope walking courses with varying levels of difficulty for a person to experience a new sensation never felt before, venturing above the breathtaking tea plantations. Special skills and prior knowledge are not necessary, you just need to bring along your sense of adventure, and you are provided with all safety equipment and a guide for an absolute adventure above the tea plantation.
5. Tea Tasting Tours
Himalayan Adrenaline's tea tasting tour showcases the rich legacy of the famous Kangra tea, a Camellia sinensis tea plant species which is grown and produced ever since its introduction in the year 1848 and regarded for its irresistible taste, aroma and significant health benefits. The guided tour allows you to soak in the large tract of well-established tea farms and plantations under the beautiful panoramic views of the Dhauladhar mountains.
While learning the tea plantation history of the region, the tea tour session also presents the entire process of tea manufacturing, giving you first-hand knowledge from plucking the fresh tea leaves from the tea garden to transforming them into beautiful, aromatic orthodox tea of various types. The special session concludes with tasting a range of freshly brewed teas of flavourful taste and scent giving you an ultimate experience.
6. Day Hikes
Himalayan Adrenaline takes you to gorgeous trails through shaded pine forests and refreshing green tea plantations under the majestic Dhauladhar range where you can feast your eyes on the stunning views the region is famous for. The trail further splits into the lone Snake god temple in the region, the hike also give you an experience of a village walk taking you to the world of spirituality through dense pine forests. The 4-hour long hike is moderate, making it a good way to experience and appreciate the outdoors while getting in touch with nature while learning about the Queens of Tea " The Kangra Tea".
7. Camping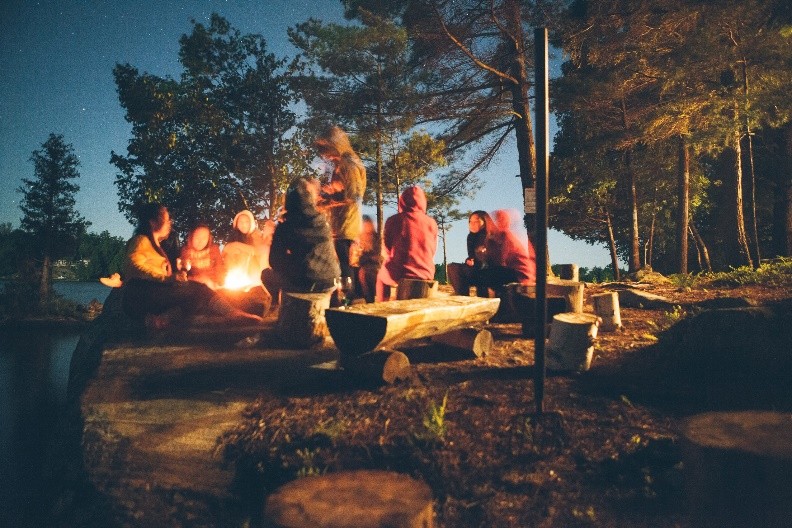 Apart from the various services mentioned, Himalayan Adrenaline also serves you to experience an overnight camp in the mountain vistas with family and friends beautified by beverages, bonfire, and scintillating stars. Taking you away from all the stress, the pleasant weather, the amazing views and the exhilarating experience will make you fall in love with the place. A refreshing view of the snow clad Dhauladhar Ranges is the cherry on the cake. Take your family or your gang for an ultimate weekend getaway.
8. Jeep Safari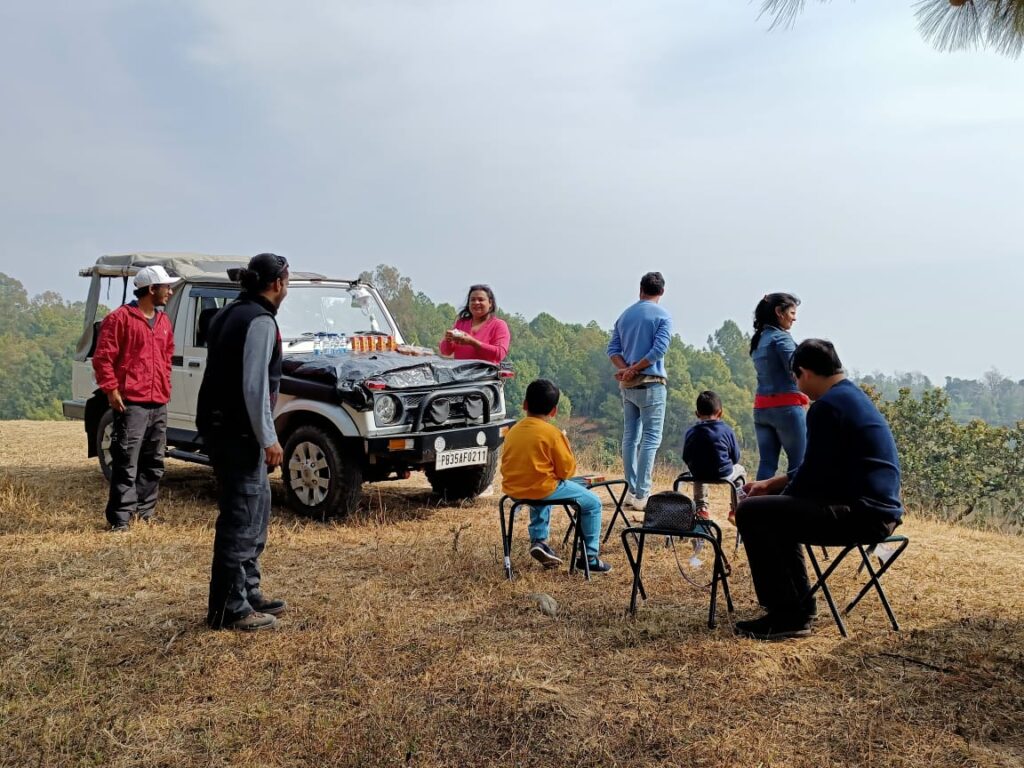 For those who are adventure enthusiasts as well as nature admirers Himalayan Adrenaline serves you to set out on an astounding jeep safari that will take you through dazzling vegetation of the region. The service includes tea garden tours in the famous Kangra tea garden which is popular for its orthodox tea produce, and a drive through to shady pine forest. Heart pumping and loaded with adventure, Himalayan Adrenaline Jeep Safari guarantees an unmistakeable mix of unparallel happiness, activities keeping the ride enjoyable to every guest.
9. Paragliding
If you have always wondered what it would be like to fly high like a bird in the sky, here is your chance to love your fantasy. Himalayan Adrenaline takes you to the World's second highest paragliding site, Bir Billing, to experience the rush of wind while soaring though the clear blue skies. Taking you off from an altitude of 8000-ft above sea level you get to fly high in the air for 20 – 30 mins with a well experienced pilot. Get a view of rocky hilltops while hovering in the blue sky and taste the thrill and fun of free flight.
The activities in Himalayan Adrenaline is apt for all age groups. A perfect get away destination for adventure seekers and group travellers . Head to himalayanadrenaline website and start planning your trip right away.
Nearby Attractions
Palampur is very uniquely situated amidst the snow-covered mountains of the Dhauladhar ranges and the diverse landscape enables a lot of fun activities for travellers of varied tastes and ranges. Here are a list of nearby activities and attractions to experience so that you never find an idle moment while your stay at Palampur.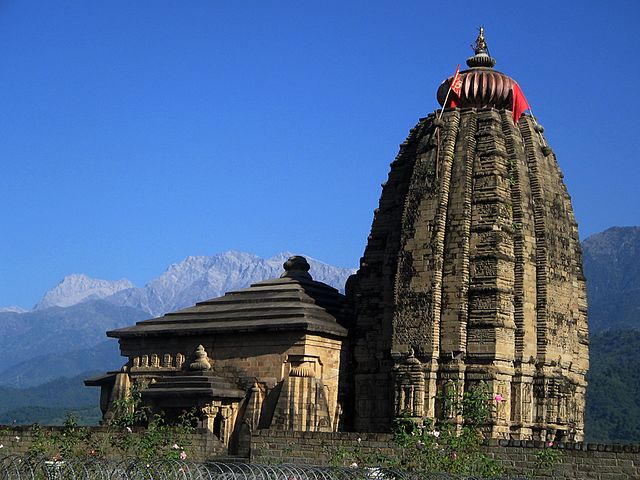 Constructed in 1207 AD, Baijnath Shiv Temple boasts of exotic carving and sculptures depicting incidents of Hindu mythology. The temple offers its visitors a tranquil experience and the water emerging from the temple is believed to heal people from their illness. Visit the quaint temple for a truly spiritual and raw sojourn in the mountains. The temple stands 16 km from bustling Palampur.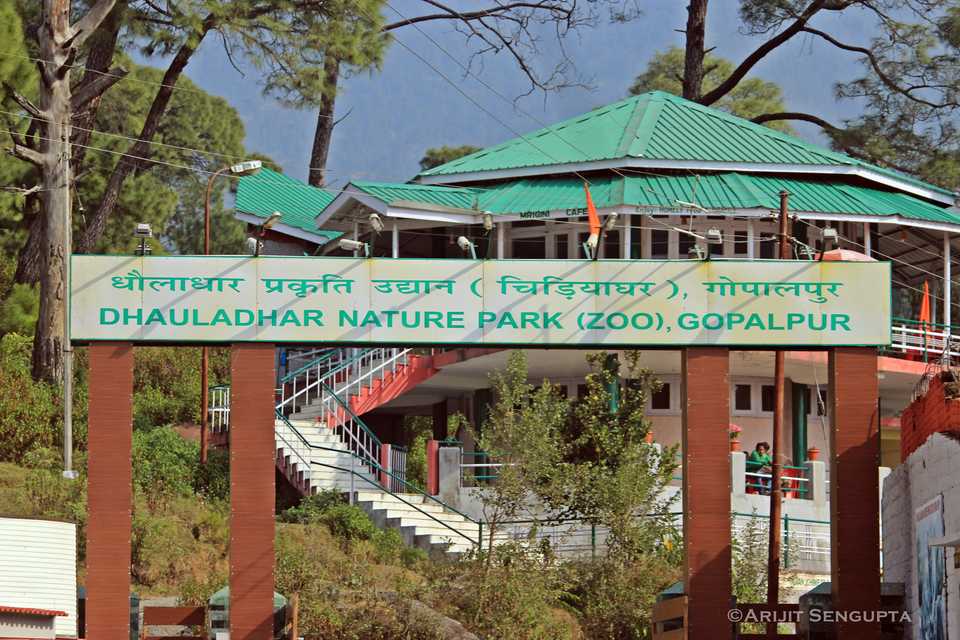 Gopalpur zoo is situated 13 kms from Palampur. It is an ideal spot to spend quality time with family and friends and a great opportunity for wildlife enthusiasts. The zoo houses a diverse range of animals such as Himalayan black bear, leopards, sambar deer and other unique varieties of wild animals. The zoo stays open from 09:00 am – 05:00 pm.
Nestled 13 km from Palampur, this artist's colony was established by Irish theatre artist and environmentalist Norah Richards. The artist's hub attracts several famous theatre practitioners, potters, and painters ever since it is founded. The quaint village is filled with fun activities, the main attraction being Andretta Pottery and Craft Society, where you can try your hands at pottery and learn from the artists. You can also get in touch with your artsy side in Sobha Singh Art Gallery and marvel at the original creation of the famous artist.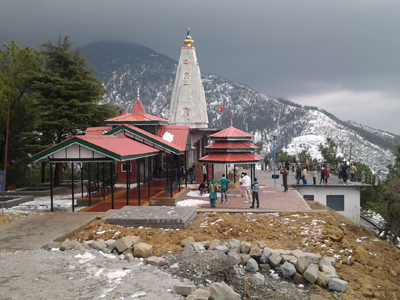 This holy shrine is situated 7 kms from Palampur and demands and arduous trek to reach the temple. Yet, it is one of the most visited tourist attractions of Palampur. The temple holds both religious and cultural values for the Hindus, also one of the best tourist spot to see in Palampur. The temple stays open from 05:00 am in the morning to 09:00 pm everyday.
Palampur is also famous for its monasteries and temples. The Tashi Jong Buddhist Monastery which is situated 15 kms from Palampur is one among the hotspot tourist attractions here. Tashi Jong is predominantly occupied by the Tibetan craft community and the monastery is adorned with beautiful Tibetan arts and the brightly painted walls are a delight to witness. Tashi Jong monastery is open on all days from 06:00 am to 07:00 pm.
Destination Highlights
Ideal Time to Visit : Nestled amidst mountains and verdant hills, Palampur experiences pleasant weather throughout the year. The temperature in summer remains comfortable with the mercury rising to just 30 degrees. Monsoons receive mild rainfall and winters are at times frigid with temperature falling to nearly freezing point.
Hence, the best time to take a trip to Palampur is the onset of the Summer season between March and June. Early winters from September to December are also a pleasant time of the year and an ideal time for a thrilling adventure.
Location : Himalayan Adrenaline is located in Raipur Tea Estate, Thakurdwara, Palampur, Himachal Pradesh
Nearest Airport : The Kangra Airport in Gaggal Kangra city of the state is the nearest air base serving the hill town. Air India and SpiceJet operate regular flights from New Delhi and Chandigarh. Travellers can hire taxis to reach Himalayan Adrenaline from the airport which is roughly an hour drive.
Nearest Railway Station : Pathankot is the nearest railhead at a distance of 120 km. Trains from cities like, Delhi, Ahmedabad, Udhampur, Jammu etc runs regularly to Pathankot.
By Road : Palampur is well connected to neighboring regions and easily accessible from other cities by road.
Where to stay?
Palampur houses all kinds of accommodations ranging from budget stays to luxurious premium hotels for you to spend quality time on the hill city. To make you aware about the convenient accommodations in Palampur, here is a list of hotels with best services and lavish comfort that will make your stay extraordinary.
Premium Luxury Hotels
Araiya Palampur – A Norwood Heights Resort
RS Sarovar Portico, Palampur
Infinity Club & Tea Garden Resort
Norwood Green Resort
Deluxe Hotels
The Bliss Palampur
Justa Palampur Resort & Convention Centre
Himachal Heritage Village Palampur Resort
Economy Stays
Hotel Rongla
Himalayan Inn
Kartikeya Grand Hotel
Nature Bloom Hotel & Resort
Lakshmi Dreams
Sangam palace
Camps and Homestays
Solitude Camp Palampur
Rupayan Homestay
Musafir Cottage
Himalayan Retreat Homestays Palampur
Popular Places to Eat
Apart from being blessed with breath-taking natural beauties and the many thrilling adventure activities, Palampur also serves a tasteful blend of exquisite cuisine that gives any traveler more than just one reason to fall in love with this beautiful hill station. Kangri Dham being the most famous of all. Among the many restaurants which serve a variety of dishes for you to enjoy and imprint on your minds, here are some of the must try places that serves amazing dishes.
Kangri Dham with meat & Cawal at Verma Dhaba, Maranda
Neugal Café
Cliffy's Café
Cloud 7
Taj Restaurant
Bagechee Mastiff
Off Road Cafe & Pizzeria (A Tea Garden Cafe)